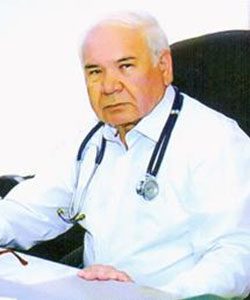 Alyavi Aniskhon Lutfullaevich
Academic of ASofUzb, MD, Professor of the department 
site Google scholar: https://scholar.google.ru/citations?hl=ru&user=B4F5o2gAAAAJ
Alyavi A.L. was born in July 28, 1947 in Tashkent. In 1971 he graduated from the Tashkent State Medical Institute. In 1971-1973 years worked as a therapist in the Central Asian Railway. In October 1973 enrolled in graduate Cardiology Research Institute  A.L. Myasnikov AMS USSR, from which he graduated in October 1976. In 1977 he defended his thesis on the topic: "The study of lipid metabolism, the antigenic properties of the serum and certain factors neurohumoral regulation of myocardial infarction in young adults."
From 1977-2012 years worked at the Tashkent State Medical Institute as an assistant, associate professor, professor and chair of the faculty and hospital therapy. In 1989 he defended his doctoral thesis on the topic: "Prostacyclin – thromboxane system, platelet and erythrocyte hemostasis in acute myocardial infarction (pathogenetic and therapeutic aspects)." Theses were performed post-graduate at the Kharkov Medical Institute under the leadership of the Academy of Medical Sciences of the USSR Lyubov Trofimovna Minor. In 1990 he was awarded the title of professor.
From 1991 to 2012 A.L. Alyavi headed the department faculty and hospital therapy (originally I Tashkent State Medical Institute, and in 2005 – the Tashkent Medical Academy). From 2012 to the present A.L. Alyavi professor in the same department. Since 1999 till now works director RSSPMC Therapy and Rehabilitation MoH.
AL Allawi author of over 500 scientific papers, 5 monographs, 5 textbooks, 10 guidelines. He has trained 19 doctors and 47 PhDs. Currently, under the guidance of Professor Allawi AL performed 4 master's thesis. Anise Lutfullaevich performs major public work: is the deputy chairman of the Academic Medical Council MoH, chairman of the Association of Physicians of Uzbekistan, chairman of the specialized council WAC in internal medicine, clinical pharmacology, physiotherapy and balneology, chairman of Scientific – Technical Council on therapeutic disciplines at UMC Uzbekistan.